Premier Pole Fitness Studio in West Michigan
LOCATIONS IN GRAND RAPIDS (GR) & MUSKEGON (MK)
Flirt Fitness is a loving community of women who build each other up in and out of the studio. We want you to develop lasting relationships with the women you meet, and for Flirt to be your home away from home. It is our hope to inspire all women to feel confident in their own skin, to feel relaxed and rejuvenated, and to let go and let loose. We're a family and a sisterhood — and on top of all that, you get a great pole fitness workout that leaves you feeling confident and beautiful throughout your week.
Flirt Fitness Studio® is for ALL women. To be clear, that means anyone who identifies as a woman. We are committed to being a trusted "home" where women can feel a sense of community, fellowship and family as a part of their fitness journey. A place where all women feel welcomed, loved and supported, and are treated equally. Our classes are the perfect workout for all body types and ages. Flirt actively promotes and is accepting of all persons who identify as a woman. Get in touch with our studios below to learn more about the amazing benefits of a pole workout and how to become part of the Flirt Fitness Studio® family. Welcome to West Michigan's premier pole fitness studios, we can't wait to meet you!
Love taking classes at Flirt! I never thought I would develop so much strength and confidence!
Took the intro class last night and LOVED IT!!! It is so much fun it's just what this momma of 3 little ones needed. It makes me feel sexy again. I'm addicted already and will be back on Wednesdays. I can't wait.
Love everything about this place!!!! I'm getting in shape, I feel confident and strong inside and out, and the atmosphere is so supportive! It makes me feel safe to just let go! I'm hooked!
Just finished my intro class and immediately signed up for an 8 week session. It was so much fun!! I definitely cannot wait to start my class!! I will be sending my friends here!
A place filled with strong, beautiful, and fun woman! I never thought I could enjoy workouts but then I entered the purple rooms of Flirt and never looked back. Not only great for fitness but wonderful for meeting new friends!
Pole Workout Classes, Parties & More!
WANT TO ENOJOY A PHENOMENAL WORKOUT WITH IMMEDIATE RESULTS?
All of our classes, workshops, and private parties are taught by
who each go through a 16-week comprehensive training and apprenticeship program, as well as complete on-going training. They know exactly what will work best for your body, mind, and spirit, while keeping safety a priority. Check out our offerings below and become part of the Flirt Fitness family!
Signature Pole Classes
ONGOING CLASSES THAT TEACH TRICKS, COMBOS, ROUTINES, & DANCING!

During our 90-minute Signature Pole Classes, you will experience a heart-felt meditation, meaningful movements and stretching, tricks and flows, ending with a choreographed routine. These classes run 8 weeks long and are followed by Elite Class and Competition Class.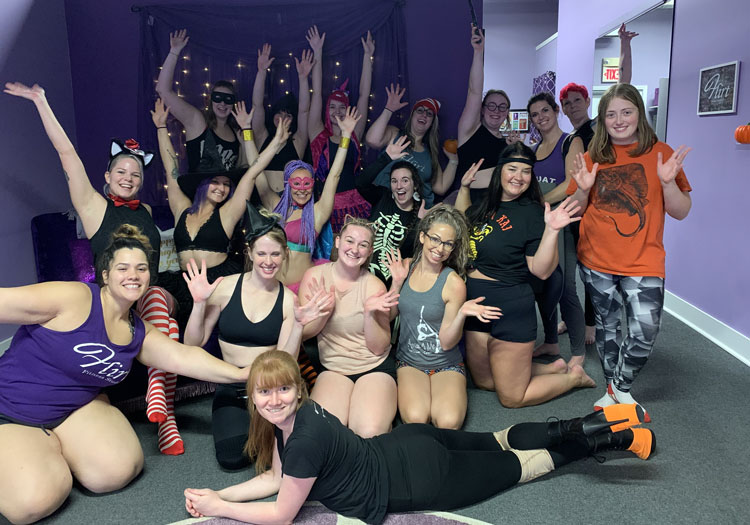 Private Parties
BACHELORETTE PARTY, LADIES NIGHT OUT, OR B-DAY BASH – YOU NAME IT!
Your Flirt Fitness Studio® instructor will start by taking you through a high energy, fun warm up! She will then teach you and your fabulous friends a few pole moves and sassy floor work. You'll end your celebration by learning a signature routine!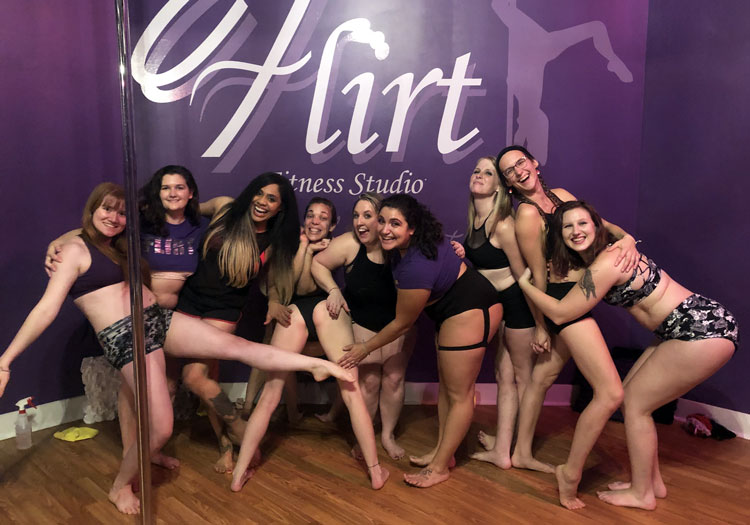 Specialty Classes
LEVEL 1 SIGNATURE CLASS REQUIRED TO TAKE SOME SPECIALTY CLASSES.
Specialty Classes are for the more experienced poler who has already participated in a Level 1 class. These classes include Pole Poise, Booty Camp, Handstands, Spin Pole and more. Perfect for women looking to take their pole journey to the next level!
Follow Flirt Fitness Studio® for updates, workshops, events & more!