Pole Fitness Classes in Muskegon, MI
BECOME PART OF THE FLIRT FITNESS FAMILY!
Welcome to Flirt Fitness's Muskegon studio! We are proud to offer a second studio location here along the West Michigan lakeshore. Our studio provides a relaxing environment for all women who wish to grow in their pole journey and develop lasting relationships with other studio members. Connect with our studio today to learn about updates, workshops, events and more. We look forward to you joining our Flirt Fitness Studio® family, you'll be glad you did. Enroll in our pole classes below, we can't wait to meet you!
Meet Shannon Misze
MUSKEGON STUDIO MANAGER
I've been in love with Flirt ever since purchasing a Intro Class with a friend over four years ago. I was beyond excited when the Muskegon location opened — I knew this was exactly what the lakeshore needed and that I needed to be a part of it!
and attending in
We strive to provide a loving, caring, encouraging atmosphere that women can feel safe in and express themselves in creative and empowering ways (while sneaking in a bit of getting into shape too!). It's refreshing to enjoy some quality "me time" and build new friendships along the way.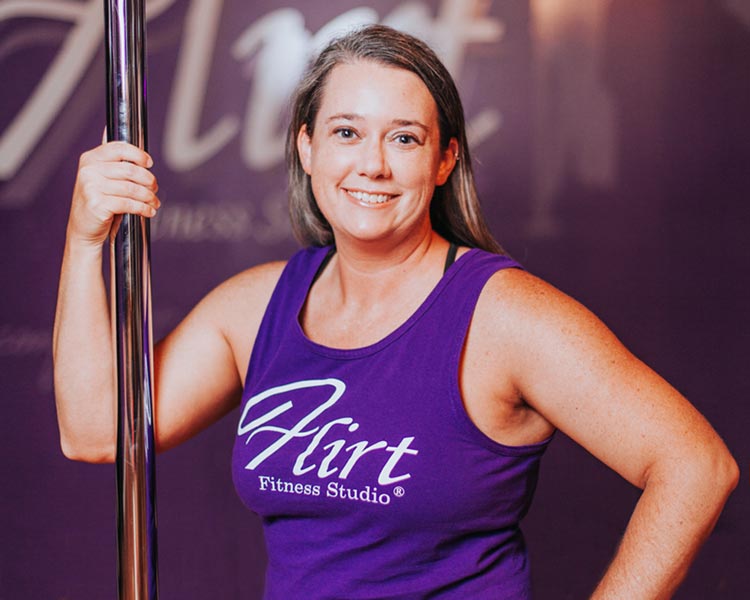 Take Classes at our Muskegon Studio
START YOUR POLE JOURNEY TODAY!
Enroll for classes at our Muskegon studio below. All classes listed are for a month out. If you would like to sign up for a class after a session has started, you can call our office at (616) 552-2255 or email us at infomk@flirtfitnessgr.com and we will get you scheduled! For all other questions or concerns you can contact us here. We look forward to you joining our amazing group of women!
Follow Flirt Fitness Studio® for updates, workshops, events & more!