Give Our Intro Class a Try
TRY IT BEFORE YOU BUY IT!
Interested in taking one of our intro classes at Flirt Fitness Studio®? This is a one-time opportunity to introduce you to our Signature Pole Classes, and for you to get some insight on our Specialty Classes that include; Flirt Flexibility, Burlesque, Booty Camp, Pole Classique, Pole Choreo, Handstands, and more!
An Intro Class is intended for someone who wants to "test the waters" and try it before you buy it! You will experience a mock class that typically begins with a short
and warm up, learn some fun and easy tricks and flows, and a short and simple routine that you'll love! After your Intro Class has ended, you will get a chance to talk with our instructors, students, and front desk – who can answer any questions or concerns you may have!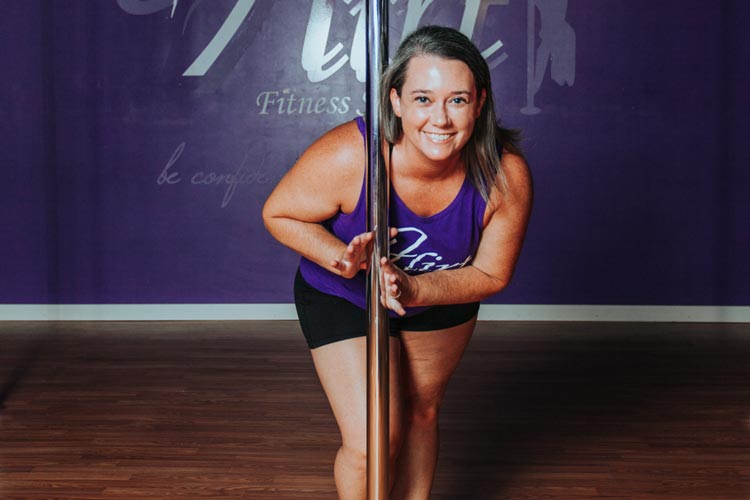 What To Expect At Intro Classes
Flirt Fitness Studio® Intro Classes are for WOMEN ONLY. Current students – Remember that you can join a friend at their Intro Class for free!
Dress like you are going to a yoga class (barefoot recommended)
Avoid putting any lotions on your hands or body before you come in.
Please bring a yoga mat and water bottle.
Sign Up For an Intro Class
HERE'S YOUR CHANCE TO TRY POLE FITNESS!
Wondering how you can try pole fitness? Sign up below! An intro class is your chance to visit our purple safe haven and see what our classes are all about. Come in for some me time, you deserve It! You can use our booking system below or call our GR & MK studios. If you have any questions or concerns about anything, contact us here. We can't wait for you to join the Flirt Fitness family!
Follow Flirt Fitness Studio® for updates, workshops, events & more!
I am raw html block.
Click edit button to change this html