Private Pole Lessons
1-ON-1 COACHING & TRAINING WITH CERTIFIED INSTRUCTOR
Looking for a more personal and tailored pole fitness class? We offer 1-on-1 private lessons with our . A private lesson is a great way to receive coaching and training without the extra distractions that can come from a regular full class.
During a private lesson you will perform a full body warm-up and workout to condition your body and prepare you for a full hour of undivided attention. Private lessons help women that are new to pole fitness experience everything that Flirt Fitness has to offer without diving into an 8 week signature class. They are also beneficial to women who are looking to add to their pole repertoire and fine tune their skills. Private lessons can be booked by filling out the form on our contact page. Select the option "Booking A Private Lesson" at whatever studio location is closest to you. Get started by clicking the button below!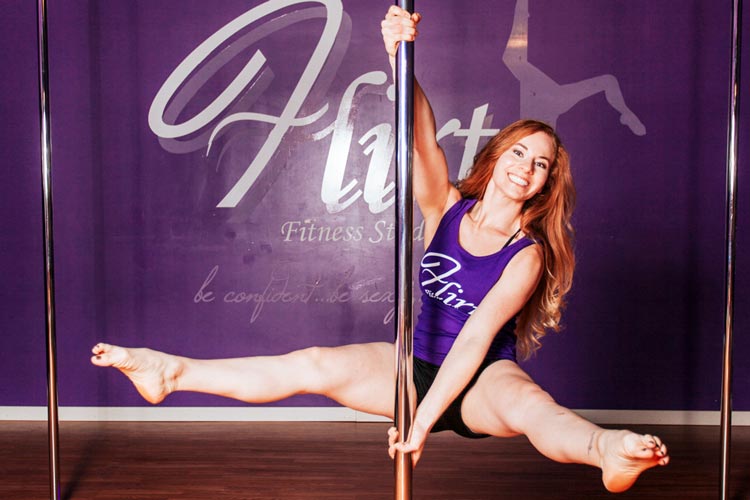 About Our Private Lessons
*1-on-1 private lessons with an instructor are $75. Purchase a 3-pack for $180 and save 20% OFF!
All private lessons must be paid for at the time of booking.
All payments are non-refundable.
Private lessons are provided for women only.
Book A Private Pole Lesson
ONE HOUR OF UNDIVIDED FOCUS & ATTENTION!
Book your private lesson today and see what it's like to be surrounded by a community of women who all share the same goal — to feel confident in their own skin! At Flirt Fitness Studio®, we are committed to ensuring that every woman who comes through our doors feels welcomed and loved. If you have any questions or concerns about anything you can contact us here. We can't wait for you to join the Flirt Fitness family!
Follow Flirt Fitness Studio® for updates, workshops, events & more!