Curvaceous Kitten Classes
FLAUNT THOSE BEAUTIFUL CURVES!
A Curvaceous Kittens class is similar to our traditional pole classes in warm-ups and some signature class pole tricks. The main difference between a traditional class and Curvaceous Kittens, though, is how tricks are broken down and taught. We take more time to figure out how our bodies can accomplish great things, and are intentional to accommodate all body types in teaching. Tricks are broken down to reference different muscles and grips that work better for curvy women; after all, everyone is different and teaching pole should reflect that.
This class is ideal for the
, funny, excited, goofy, adventurous, loving women! Essentially: this class is perfect for anyone who might not be ready to take on a traditional pole class, and is looking for a chance to break things down and work more deliberately on feeling comfortable in their body. Curvaceous Kittens is catered to women who are looking to build strength, try something new, and build strong relationships with alike women.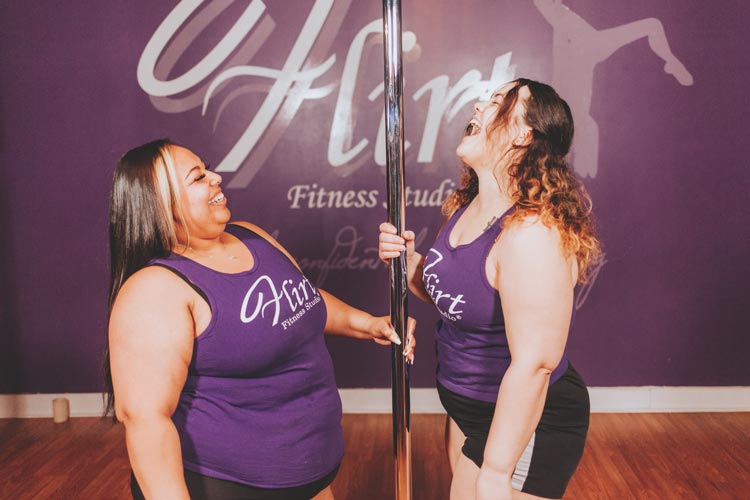 Why Take a Curvaceous Kittens Classes?
Curvaceous Kittens encourages women to practice with other women who are like them, and build confidence by exposing women to new possibilities for their bodies. Watching someone just like you move sensually and powerfully is an inspiring and empowering feeling, and our students get to experience that during every single class. This class focuses on:
strength and conditioning.
building confidence.
improving agility & pole prowess.
What To Love About This Class
A PERSPECTIVE FROM OUR INSTRUCTOR: BRITTANY LAFAVE
Our instructor says: "I love this class because it allows me to move along side my pole-sisters and gain confidence in my body, in myself, and truly enjoy moving with and around the pole."
Students who have taken Curvaceous Kittens express that what drew them to Flirt Fitness is a desire to try something totally new and out-of-the-box; gym memberships and other programs weren't working for them, and they wanted to come somewhere where they could love themselves and have fun; that is what's most important here at Flirt! Those same students now look forward to coming to pole class every week to share this experience with a group of highly supportive and encouraging women.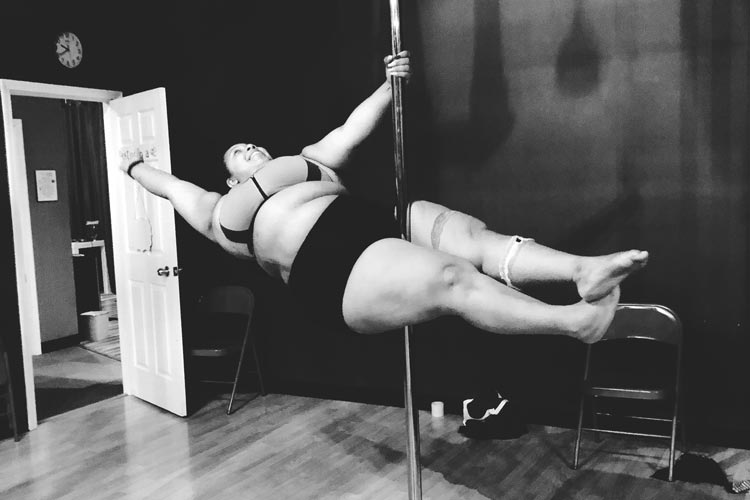 Testimonials From Our Curvaceous Kittens
SEE WHAT SOME OF OUR STUDENTS ARE SAYING
I first heard about Flirt Fitness Studio when one of my co-workers started talking about pole dancing, and at first I was a bit skeptical. She talked very highly of the studio, saying absolutely loved it and told me that she thought I would enjoy it, too. So here I was thinking, me on a pole, with my big self… you're funny! But I kept catching myself thinking about it, so I eventually gave in and thought, what the heck, why not give it a shot! I was obviously interested. It sounded fun and it was a way to exercise! Curvaceous Kittens has helped me grow so much! I've only taken one 8-week session so far, but it has done wonders for my body, and has improved my confidence. I am so proud that we are going against the status quo of what big girls can't do! Not only are you gaining a new out look on yourself, but you're gaining a community of women who are doing the same thing! A nonjudgemental group of women who are there to help support you. I'm always excited for class, and I know that no matter how my life is going, how my day is going, how I am feeling, as soon as I walk into the studio everything is no longer an issue. This is "me time". This is "look how sexy I can be". This is "that's right, I just did that… want to see it again time?"
As a larger person there are some tricks that took me a little longer and it was hard to not get down on myself for not moving faster. Don't get me wrong I am stronger, and way more confident than I was when I started. As a women that was never comfortable in her own skin due to years of abuse at the hands of those closest to me it was hard to see myself in any other light. As women sometimes we are dealt some tough cards to play. Whether we are what the world dreams as "Plus Size" for whatever reason… I believe every women deserves to see themselves in the light that they were intended to be in. Yes, Pole is a step out of your comfort zone, but it is the best decision I have ever made. This sanctuary is a place that quickly feels like home, it helps you come alive as they see the real you and help you to do the same. Their non-judgmental love sweeps through the studio like fresh air and I look forward to my "girl time" every week. Come be stronger emotionally, mentally, and physically as you blossom into the women you always wanted to be.
Follow Flirt Fitness Studio® for updates, workshops, events & more!