Welcome To The Practice Room
ACCESSIBLE SPACE FOR POLE, DANCE, & FITNESS TRAINING
Practice on your own time! Finally, a room for you to practice any Grand Rapids studio and Muskegon studio. Book your session online or contact us for help getting started!
you choose. Need some space to do that online floorwork class, favorite YouTube workout, or online certification? A space that's away from the distraction of your living room, kids, or now "work space"? The Practice Room comes equipped with a flatscreen and HDMI cable so you can finally take advantage of that online lesson, class, or trick without having to house any equipment. This room is available at BOTH our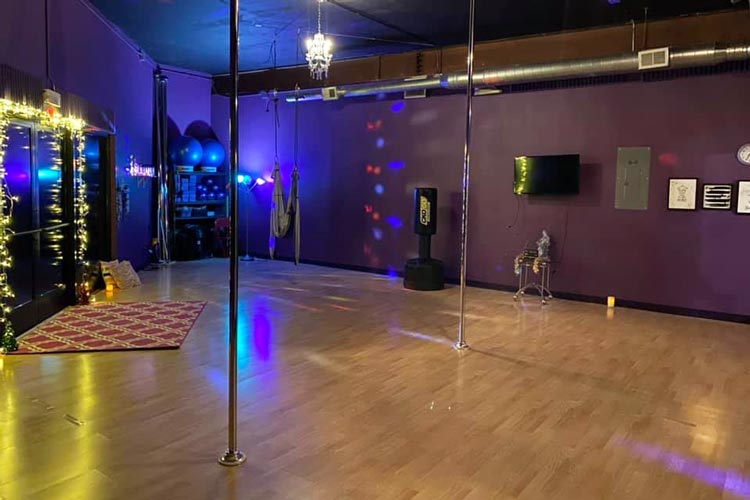 Benefits Of Using Our Private Space
Not only do we have all of your equipment in one room but we also have the ambience you prefer for your workout. From bright club lights for a performer or party atmosphere, to dimmed lights for a more intimate setting, you can turn your practice space into what you need it for during your session!
Private room equipped with everything you'll need.
Flexible hours so you can practice on YOUR TIME!
Create your own ambience with our lighting selections.
Sanitized after every booking to ensure safety and limit exposure.
Pricing & Info For The Practice Room
The Practice Room has two, 12 foot, stainless steel, static or spinning poles that are 9 feet apart; perfect for practicing your next showcase, performer or competition routine.
This space also comes equipped with weights, yoga blocks and straps and mats, a horizontal bar (coming soon) with Barre balls , a free standing boxing bag and a yoga trapeze.
Pricing Bundles
One booking – $19
Unlimited monthly – $99
*Call our GR studio to learn more about booking room rentals.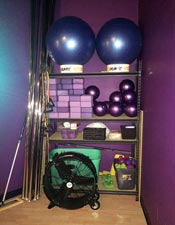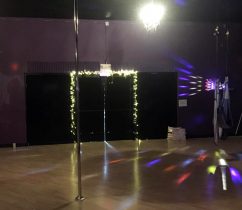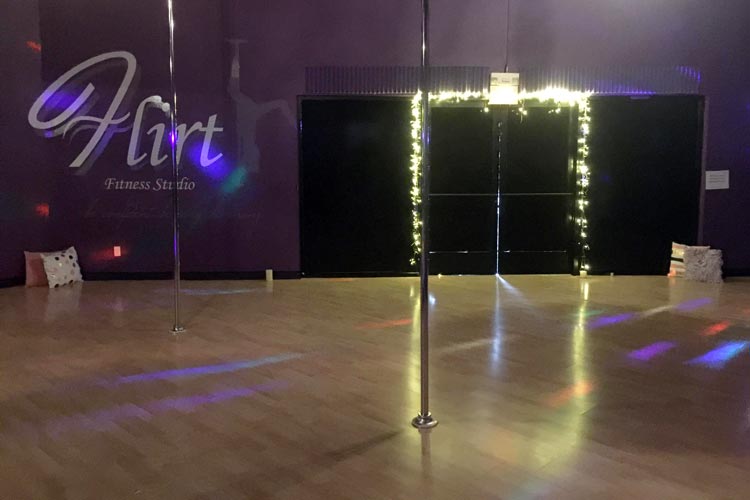 My experience in the practice room was fantastic! The equipment is nice. The lights really make a huge impact on the mood of the room. Jamming out to my favorite music dancing by myself or one of my friends is an opportunity I'm grateful for. I will most definitely be going back many times!
I'm super happy with my experience in the Practice Room. There's plenty of different workout equipment to use, along with mood lighting and speakers. The room is spacious and very clean. Finding an available time was super easy, as there are tons to choose from. I will definitely look into purchasing a monthly option in the future. Highly recommend!
6 months ago I was taking multiple classes a week at Flirt and I was in the best shape of my life…then Covid hit. My daughter is high risk for complications and I couldn't take the chance of taking classes and exposing her. I have a pole at home, but working out at home is hard. I was so excited when I saw that Flirt was offering a Practice Room where I could go by myself and workout without distractions, so I tried it out. It's AMAZING. The Practice Room has 12 foot poles (both spin and static), speakers to hook your phone up to for music, a flat screen TV with connection for a laptop (hello online classes!), a yoga swing, weights, yoga blocks and PLENTY of floor space. I'm finally able to workout without distraction, in a place that's clean with little risk of exposure.
Follow Flirt Fitness Studio® for updates, workshops, events & more!